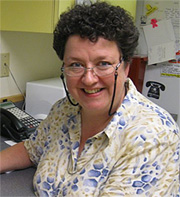 Bookkeeper
Kathy assumed the role of practice bookkeeper when Dr. Beebe assumed ownership of the practice.
She handles the payroll, pays the bills and keeps the general ledger for the practice. She has been handling bookkeeping for various area businesses for 25 years.
Kathy and her husband, Kevin, who is the Director of Warehouse Operations for Kellogg Marine in Old Lyme, reside in Quaker Hill where they share space with their Golden Retriever, Brodie. In her spare time, Kathy enjoys antiquing.